Spring Awakening
July 26-29, 2018
410 Sheridan Rd 2nd Floor, Highwood, Illinois 60040
Music by Duncan Sheik

Lyrics by Steven Sater

Book by Steven Sater
Director: Lauren Rawitz
Music Director: Aaron Kahn
Choreographer Jordan Radis
Stage Manager: Andrew Hirsh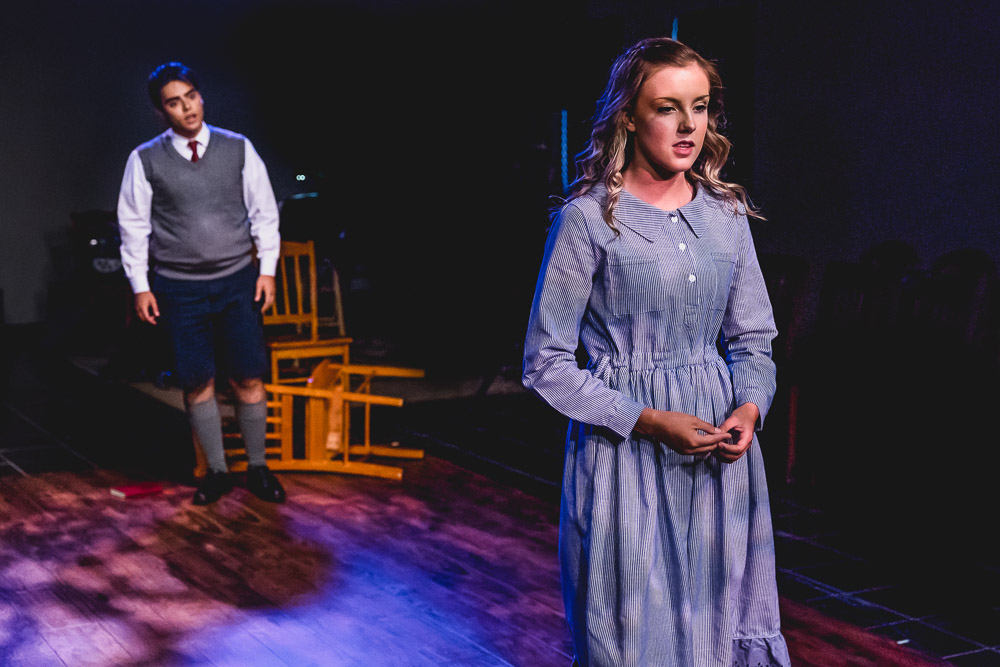 Artist Bio's
JORDAN RADIS (Moritz) is over the moon to be in one of his favorite shows with some of his favorite people! Jordan is an incoming Sophomore earning his BFA atEmerson College and has been performing since the age of 10. Most recently, Jordan was onstage as Jakob in La Cage Aux Folles, Edward Bloom in Big Fish (IHSMTA Finalist), and Chris in Miss Saigon (IHSMTA Nominee). Jordan would like to thank his beautiful parents, his beautiful director Lauren, and his beautiful cast mates for their love and support! Jordan dedicates this performance to anyone who may be struggling with a mental illness. "On your way, you are not alone."
KAITLIN FEELY (Wendla) is beyond thrilled and humbled to be a part of 4 Chairs Theatre's inaugural production with such an incredibly talented cast and production team. Kaitlin will be a junior at Illinois Wesleyan University pursuing a BFA in Music Theatre and a minor in Mathematics. Kaitlin was most recently seen as Suzy in The Wonderettes (IWU), Ensign Connie Waleweska in South Pacific (IWU), Kim in Miss Saigon (IHSMTA Finalist), and Nina Rosario in In the Heights (IHSMTA Finalist). She would like to thank her unbelievable cast and crew, her inspiring and phenomenal director Lauren Rawitz, and her amazing parents. Mom and Dad, thank you for always helping me to reach my dreams. May we forever "sing the song of purple summer."
ARI DAYAN (Martha) is so excited to be performing in Spring Awakening for the second time! Ari has performed in numerous regional theatre productions including: Les Misérables, Fiddler on The Roof, and A Christmas Carol at the Marriott Lincolnshire, along with Seussical the Musical and The Sound of Music at the Drury Lane Oakbrook. Ari also performed with the Broadway cast of White Christmas at the Chicago Christmas Tree Lighting. In addition to her regional experience, Ari appeared in Highland Park High School's productions of Legally Blonde (Margot), Spring Awakening (Wendla), Les Misérables (Cosette), and Mary Poppins (Mary Poppins). Ari is a rising junior at the University of Michigan and is passionate about history, travel, and guacamole. A huge thank you to family and friends who are undoubtedly supportive and loving.
HANNAH BEHM (Thea) is thrilled to be back on stage and playing the role of Thea in Spring Awakening. She will be a Junior this fall at the University of Illinois where she is studying Nursing, but sometimes will sing a song or two in her shower. Her recent credits include Miss Saigon, Cabaret, and In The Heights. She would like to thank her friends and family for always supporting her in whatever she chooses to do. Lastly, she would like to give a special thanks to Lauren, the cast, and the crew for making this beautiful show come to life: "and all shall know the wonder"
FRANCESCA 'FRANKIE' WALSH (Ilse) is a senior at Stevenson High School. She has been performing in musicals since 5th grade and has had lead roles in such productions as Sound of Music, Les Misérables, Bye, Bye Birdie, Miss Saigon, and Fiddler on the Roof to name a few. Frankie is a member of Tri-M Honor Society, Patriot Singers & Thespians. She hopes one day to find a future in musical theater. She also wants to thank the cast and crew and Mrs. Rawitz for this amazing opportunity!
AALIYAH BOOTH (Anna) is excited to participate in the production of Spring Awakening. This is her fourth show. Previous shows include The Colored Museum, Once on This Island, and Dorothy Meets Alice.
JOHHNY BARBOZA (Melchior) is ecstatic to be playing the role of Melchior in this production of Spring Awakening! He is going into his sophomore year at the University Of Illinois after studying a year at Berklee School Of Music. He has had roles in productions such as Lend Me A Tenor (Max), Miss Saigon (John), Almost Maine (Man/Steve/Chad), Big Fish (Will), and Les Misérables (Jean Valjean). Johnny is studying as a music education major and hopes to keep his love for music in his future. He is incredibly proud of all the work the cast, crew, and production team have put into this show and thanks Four Chairs Theatre for giving him an opportunity to keep performing!
TOMMASO JOZWIAK (Georg) is delighted to be making his debut with 4 Chairs Theatre. He is a Junior at Stevenson High School and is thrilled to be working once again with Lauren Rawitz and team in Spring Awakening. Tommaso has been working with Buffalo Grove's community theatre Big Deal Productions for almost a decade! Tommaso has played many roles, including; Scar in Lion King, Motel in Fiddler on The Roof and Mr. Webb in Our Town. He would like to thank Lauren Rawitz and the whole team for putting this masterpiece together. He would also like to thank his friends and family for all the support!
TIM GRAVES (Ernst) is so happy to be a part of this production of Spring Awakening! You might have seen Tim in several other productions through Big Deal Productions such as Les Misérables, Fiddler on The Roof, Wizard of Oz, and Our Town. Tim attends Adlai E. Stevenson High school where he has been in the production of Fiddler on The Roof. Tim is so happy and thankful that he has the pleasure of working with such a great cast and would like to thank everyone who made it happen.
NOAH CHISMAN (Hanschen) is thrilled to be back in the theater after a three-year hiatus. Noah attended Stevenson High School, where he enjoyed participating in plays, musicals, and improvisational theater. Since then, he's been studying Landscape Architecture at the
University of Illinois at Urbana Champaign, where he will return as a senior in the fall. When he has free time, he enjoys gardening, kayaking, going on runs with his dog, drawing, and collecting records. Some of his recent theatre credits include Cabaret, Pippin, and The Laramie Project. Noah would like to thank Lauren for choosing such a meaningful and powerful story to tell the community and he hopes you enjoy the show!
MAX RUBINSTEIN (Otto) is excited to be in this production of Spring Awakening! He has been involved in numerous productions at Stevenson High School including: Our Town, Fiddler on the Roof, Crimes of the Heart, and Big Fish, and many productions at Big Deal Productions. Max would like to thank Lauren Rawitz and everyone else who made this show possible! Enjoy the show!